Michael Ovitz


Latest News
Ghostbusters Cast Looks Back
Sept 8, 2014
Esquire Magazine's recent An Oral History of Ghostbusters reunited the entire cast to reminisce about the film, including Bill Murray, Dan Aykroyd, Ivan Reitman, Sigourney Weaver and the late Harold Ramis, as well as Michael Ovitz and other industry executives who helped make the classic comedy...
READ MORE

Tamara Mellon Takes on NYC Retail
Sept 3, 2014
Tamara Mellon has been keeping busy since the 2013 launch of her fashion line of the same name. The former president and co-founder of Jimmy Choo, Mellon is no newcomer to the fashion world, and has made a splash with everything from her innovative legging boots to her disruptive 'buy today, wear tomorrow' approach to releasing new styles...
READ MORE

NFL Return to Los Angeles Gathering Steam
Aug 13, 2014
"It would make a beautiful stadium," Dallas Cowboys owner Jerry Jones replied when asked about the model Hollywood mogul Michael Ovitz proposed for a re-imagined Los Angeles NFL venue. Jones and Oakland Raiders owner Mark Davis were present at Tuesday's joint football practice in Oxnard, CA along with Magic Johnson (once represented by Ovitz) and even Tommy Lasorda, sitting at a sideline-chair in a VIP area. ...
READ MORE

Hamasaku helps kick off the 2014 Los Angeles Times Taste festival of food
July 30, 2014
Michael Ovitz's renowned sushi restaurant Hamasaku helps kick off the 2014 Los Angeles Times Taste festival of food scheduled for Labor Day weekend with a Friday night VIP opening night party....
READ MORE

Moguls Attend Allen & Co's Annual Sun Valley Conference
July 17, 2014
Michael Ovitz and girlfriend Tamara Mellon (designer and co-founder of Jimmy Choo) were in attendance at last week's Allen and Company Sun Valley Conference in Sun Valley, Idaho along with many of the world's wealthiest and most powerful executives from media, finance, and technology.....
READ MORE

Los Angeles Magazine Looks Back at Spago
July 2, 2014
Los Angeles Magazine's latest addition 'The 80's' includes a look back at the original Spago, chef Wolfgang Puck's iconic restaurant that became a favorite for Hollywood dealmakers and royalty....
READ MORE

Michael Ovitz Residence Featured in W Magazine
June 23, 2014
W Magazine selected the 'coolest venues in town' for its latest art-themed fashion shoot, including a rare look at Michael Ovitz's Beverly Hills residence. The shoot allowed a glimpse of a few of the extraordinary works of art at the home - itself an artistic expression.'....
READ MORE

5 Questions for Hamasaku's new Sushi Chef Yoya Takahashi
Jan 29 2013
Michael Ovitz's Hamasaku is a 'sophisticated harmony of Japanese cuisine and Californian exuberance', celebrated for its 'whimsical reverence for sushi and understated elegance'....
READ MORE

Kimberly Ovitz Releases New Jewelry Line
Jan 28 2013
Michael Ovitz's daughter, fashion designer Kimberly Ovitz, has released a new jewelry line in her premier Kimberly Ovitz With Shape collection, to debut Feb 7, 2013 at New York Fashion Week...
READ MORE

Michael Ovitz Moderator at AW8 - Brands as Content/Content as Brands
Oct 17 2011
Michael Ovitz video moderating at AW8, along with Michael Kassan, Chairman and CEO of MediaLink, and Wenda Harris Millard, President and COO, MediaLink...
READ MORE

Kimberly Ovitz Puts ASPCA Dog Rescue First
Oct 14 2011
Fashion designer Kimberly Ovitz, daughter of Michael Ovitz, was featured in this recent Los Angeles Confidential article, "Kimberly Ovitz Puts ASPCA Dog Rescue First", about her role in bringing attention to the plight of animals, particularly the ASPCA'...
READ MORE

Michael Ovitz To Executive Produce Tom Clancy TNT Drama
Sept 13 2011
Michael Ovitz will be executive producer of a Tom Clancy procedural drama, 'Homeland Security'...
READ MORE

Michael Ovitz Sells Ice House
Sept 12 2011
Michael Ovitz has sold the 'Ice House', a well-known Beverly Hills landmark...
READ MORE

Kimberly Ovitz Debuts Spring 2012 Collection
Sept 20 2011
Michael Ovitz' daughter Kimberly Ovitz debuted her Spring 2012 collection at New York's Fashion Week...
READ MORE

Michael Ovitz Opens Home for an Art Tour
Sept 20 2011
Michael Ovitz is allowing private tours of his renowned art collection located in his home. The tours will be facilitated by the Santa Monica Museum of Art...
READ MORE



Biography
Over the past forty years, Michael Ovitz has been involved in a wide variety of activities in the worlds of entertainment, advertising, finance, business and philanthropy. He began his entertainment career prior to graduating from UCLA, as a tour guide at Universal Studios. He later started in the mailroom of the William Morris Agency, soon became a highly successful TV agent there before leaving with four colleagues to found CAA.

Ovitz co-founded Creative Artists Agency (CAA) in 1974 and served as its Chairman until 1995. Over that 20-year period, he grew the agency from a start-up organization to the world's leading talent agency, representing more than 1,000 of the most notable actors, directors, musicians, screenwriters and other personalities in the entertainment industry. While at CAA, Mr. Ovitz was known for assembling "package deals", wherein CAA would utilize its talent base to provide directors, actors and screenwriters to a studio, thus shifting the negotiating leverage from the studios to the talent.

Ovitz expanded the purview of the agency by moving into such activities as corporate consulting, investment banking and advertising. He helped negotiate such transactions as Matsushita's acquisition of MCA/Universal, the financial rescue of MGM/United Artists, and Sony's acquisition of Columbia Pictures. He shook up the advertising industry by winning Coca-Cola's global advertising account in 1991. Mr. Ovitz also served as President of the Walt Disney Company, from October 1995 to January 1997.

In January of 1999, he launched a related family of talent management, motion picture and television production companies. Since selling those companies in 2002, he has remained involved in a limited number of film and videogame projects, while devoting the bulk of his time to investing in startup technology and media companies, real estate and other ventures.

Ovitz has also served as a member of the Board of Directors for J. Crew Group Inc., Gulfstream Aviation and Opsware. He served as Chairman of the Executive Board of the UCLA Hospital and Medical Center and headed up the Capital Campaign to raise money for their new hospital, designed by I.M. Pei. He also served on the Executive Advisory Board of the Pediatric AIDS Foundation, the Board of Directors of D.A.R.E. America, and the National Board of Advisors for the Children's Scholarship Fund. He is currently involved in numerous cultural and charitable activities. He currently sits on the Board of Directors of the Museum of Modern Art, is a member of the Council on Foreign Relations and is on the Board of Advisors of Andreessen Horowitz.

Most recently, he has successfully launched a new Venture Capital Fund, Broad Beach Ventures, where he is among a select group of angel investors.



Video


When Marc Met Mike - Marc Andreessen Interviews Michael Ovitz


Article Archive


Michael Ovitz




A Tough, Innovative Superagent Emerges as King of the Hollywood Deal


People Magazine

In the new buttoned-down Hollywood, power and access are more important than prestige and pay-and yet there is a single man who has cornered all four. He is neither director nor star but a dealmeister extraordinaire, a Lubitsch not of film but of finances, who in November brokered the sale of Universal Studios' brand equity along with the King Kong ride, Bruce the shark, publishing's Putnam Berkley Group and MCA's mat-black skyscraper to the Japanese electronics giant Matsushita Electric Industrial Co. for $6.9 billion.

Michael Ovitz added the top line to his credit crawl by providing a service usually performed by Wall Street investment houses. His take on the MCA deal: a reported $40 million. Last year, Ovitz did a push-up to this task by marrying Sony to Columbia Pictures Entertainment. "Hollywood is about relationships," a well-connected TV producer once said, "and everybody today wants an even warmer relationship with Mike."

So as Hollywood slides across the Pacific Rim to Japan, the man greasing the wheel is Ovitz, the 44-year-old superagent who. as chairman of Creative Artists Agency, has assembled an unparalleled stable of actors, directors and screenwriters. Among them: Madonna, Kevin Costner, Barbra Streisand, Steven Spielberg, Sylvester Stallone, Cher and Ovitz's former aikido instructor, Steven Seagal.

Much of Ovitz's most-powerful-man rep still comes from "packaging" clients-actors, directors and writers-to make films like GoodFellas (Robert De Niro, Ray Liotta, director Martin Scorsese and writer Nicholas Pileggi). And he pulls all these strings with consummate skill. Says Disney Chairman Michael Eisner: "He's among the most tenacious people one would ever meet."

The spotlight rarely shines on the publicity-shy agent, who started out as a mail boy in the William Morris Agency. Devoted to Judy, his wife of 21 years, and their three children, Ovitz spends much of his time at their art-filled Brentwood home. Some think he may take over a studio. But why bother? He is already the shogun of Hollywood.



Michael Ovitz


By: Liz ZackOctober 31, 1999
Fast Company

Hollywood talent agencies never functioned the same after Ovitz sunk in his teeth. Now crunching the industry for the second time, the titan of talent intends to surpass his own reputation.

Back when Michael Ovitz ran the Creative Artist's Agency, hailed as the most powerful talent agency in the world, he would hand out copies of Sun Tzu's "The Art of War" to his staff. In 1995, Ovitz parted amiably with the company he had founded two decades earlier and the industry he had revitalized, and ascended the throne of the Disney empire as president. It was a career move he hoped would catapult him to the top of an even older and larger entertainment kingdom than the one he built himself. But instead, 14 months after unsuccessfully casting himself as Disney's president, Ovitz clashed irrevocably with Chairman of the Walt Disney Company Michael Eisner, collected an estimated $128 million in compensation, and boomeranged back to Hollywood. Last winter he formed AMG, the Artists Management Group, and is now testing his ex-employees on their knowledge of Chinese philosophy.

Same job different company: Sometimes it's best to Boomerang back an alternate route

Ovitz could have waltzed back into CAA like nothing happened, but he really had nothing to gain from returning to his old stomping ground. He left as founding father and king of the hill. By returning after his failed stint at Disney, he might have marred his reputation as a brilliant and brutal businessman. For Ovitz and for a war-gamed Hollywood, a return to CAA would not be a return to grandeur; instead, it would appear a whimpering retreat.

Ever the forward thinker, Ovitz chose the braver route. He realized that he should return to the business he knew best, but he conceded that he had learned all he could from his 20-year career at the I.M. Pei building on Wilshire Boulevard. Ovitz decided to move on to a new big, and perhaps even better, project.

During his tenure at CAA, Ovitz had reinvented the talent agent world by charging the lowest commission in the industry and beating out all the competition. He had shaken up the studios by demanding previously unheard of salaries for his actors. When word got around about the new game in town, everyone followed suit, and Ovitz succeeded in effectively changing the center of power in Hollywood from studios to agents.

After bidding farewell to Mickey and Friends, Ovitz was ready to move back to the industry he had helped to create, and subsequently formed a monolith one-stop talent management shop: AMG. Whereas CAA agents are legally prohibited from producing projects with their clients, AMG talent "managers" are largely unregulated and have a much more flexible role. They can be financial partners with their clients and usually earn hefty commissions for providing more one-on-one hand-holding services. In his comeback company, Ovitz aims to create a powerhouse that not only manages the careers of stars but also produces and distributes movies -- he reportedly wants all agents and managers to work for him.

If you can't join 'em, fight 'em

Ovitz has the distinct advantage of having done right by his clients, and he therefore has talent that trusts him. This trust has enabled him to go head-to-head with his old company -- and emerge victorious. Already many big CAA names have crossed the line in the sand to join AMG. Claire Danes, Laren Holly, Minnie Driver, Marisa Tomei, Mimi Rogers, Syndney Pollack, Martin Scorsese, and Robin Williams all have been plucked from the CAA waters.

Ovitz is now poised to hoist his newest big project even higher than CAA. The opportunity requires a huge amount of industry expertise, a fantastic reputation, and some hefty nerve. But if the past is any predictor of the future, Hollywood had better take shelter: Ovitz is back in town.



Pocketful Of Stars: Michael Ovitz


By Janice Castro;Elaine Dutka/Los Angeles and Janice C. Simpson/New York
Monday, Feb. 13, 1989
Time Magazine

In Hollywood, they say, any bureaucrat can give the thumbs-down to a film proposal, but the ones with real clout are those who can flash a thumbs-up and make it happen. That power used to be the exclusive preserve of the studio moguls. Not anymore. While studios still control the financing, today the man with the golden thumb is Michael Ovitz, an agent and martial-arts buff who works in quiet but irresistible ways. Nearly everyone in show business agrees that Ovitz, 42, president of Creative Artists Agency, is probably the most powerful figure in Hollywood. Some think he may be a bit too powerful.

Michael who? Most people outside Hollywood would not recognize his name, but that's the way he likes it. The Ovitz team's credo: Don't talk about us, talk about our clients. The 675 names on the agency's roster include actors ranging from Paul Newman to Bette Midler, directors from Ron Howard to Martin Scorsese and musicians from Michael Jackson to Madonna. While CAA's chief rivals -- International Creative Management and William Morris -- may boast longer lists of stars, the 14-year-old CAA has snatched most of the brightest lights in the business. Says longtime agent Irving ("Swifty") Lazar, 81: "There hasn't been a phenomenon such as CAA since 1947, when Lew Wasserman and MCA dominated Hollywood. Comparing CAA to its strongest competition is like comparing Tiffany's to the A&P."

Contrary to the unbuttoned, indulgent style at many agencies, CAA operates with the crisp, well-coordinated teamwork of a Japanese high-tech firm. What adds to the agency's mystique is that Ovitz is extremely press shy. In the first extended interview he has ever given, he described his agency's unusual philosophy to TIME correspondent Elaine Dutka: "Some companies believe that internal competition helps the bottom line, but I'm not of that school. We try to take the paternal approach of the Japanese, who take care of their own, and temper that with Western creativity and ingenuity."

Ovitz, who shares power with CAA co-founders Ron Meyer, 44, and Bill Haber, 46, has shown an uncanny touch for putting stories and stars together. The agency had a hand in assembling the elements of four current box-office hits: Rain Man, Mississippi Burning, Twins and Scrooged. Among its TV successes are Golden Girls and Beauty and the Beast. Says Barry Diller, chief executive of Fox Inc.: "CAA represents a lot of good people, and is very aggressive in how they link them to each other. It's all about selling, and they're very good at it."

Hollywood's superagents have risen in power partly because takeovers and mergers have undermined the traditional influence of the major studios. Today very few actors and directors sign exclusive contracts with studios. Result: agents, who collect 10% of every dollar their clients earn, have become far more influential as matchmakers. Instead of merely peddling artists, they now help create custom-made projects for their stars.

Clients appreciate the fact that Ovitz not only pampers them but also teaches them to become more self-sufficient. Says actress Sally Field, a CAA client: "We used to be totally helpless, talking about what lessons to take or how thin we'd got our thighs while we waited for the phone to ring. Michael encouraged me to pick up the phone and develop my own projects. He told me, 'Be your own studio.' "

Since stories are the indispensable raw material of show business, CAA has built a development department that generates ideas for its clients. Ovitz has cultivated close ties with Manhattan gliterary agent Morton Janklow, who represents such best-selling authors s Judith Krantz, Danielle Steel and Jackie Collins. That collaboration has produced some 100 hours of network mini-series. Now Ovitz hopes to work an even richer literary vein. In December Janklow announced a surprise merger with longtime ICM literary agent Lynn Nesbit, whose clients include Tom Wolfe, Ann Beattie and Michael Crichton. According to sources close to the negotiations, the publishing coup was arranged by the invisible hand of Michael Ovitz.

The boyish 5-ft. 9-in. dynamo with the gap-toothed grin was reared in a $9,000 tract house in the San Fernando Valley. He originally wanted to become a doctor, but show business kept catching his eye. Sally Field, a classmate at Birmingham High School in Van Nuys, remembers him standing quietly in the back of the room, watching her drama-class rehearsals.

While a premed student at UCLA, Ovitz worked part time at Universal Studios. After graduating in 1968, he landed a job in the mail room at the William Morris agency. Within a year, he was promoted to agent. Six years later, he and four other young colleagues quit to form CAA with only a $21,000 bank loan. Says Ovitz: "Of course I was scared. I was barely 27 at the time. We didn't take a paycheck for almost two years. Our wives took turns serving as secretaries. In the early years, I couldn't get a good table at a restaurant. I felt like an extra on a set."

The days of making do are long gone. In the fall CAA will move into a new 65,000-sq.-ft. headquarters building in Beverly Hills designed by architect I.M. Pei. Ovitz, who lives in tony Brentwood with his wife Judy and their three children, often attends Los Angeles Lakers games, where he can keep an eye on one of his newest clients, star guard Magic Johnson. Every morning at dawn, he practices aikido, a Japanese form of self-defense that turns the attacker's momentum against him. Says he: "We're painted as aggressive, which is true to a point, but everything is balanced."

Ovitz, who reputedly earns more than $3 million a year, rewards his 65 gung- ho agents with outsize salaries and a share of the agency profits. In exchange, he demands loyalty and discipline. CAA even has an unspoken dress code. Says Ovitz: "When we hire agents, we spend most of the time examining how they'd fit in. We agonize over our personnel."

Critics say the agency's clout has become excessive. Says a top studio executive: "CAA packages are a prefab, take-it-or-leave-it way of making movies. Some pictures get made that maybe shouldn't be made." Ovitz has had his share of feuds, most notably with David Puttnam, who lost his job as chairman of Columbia Pictures last year after alienating much of the Hollywood establishment. Insiders say the abrasive Puttnam's most expensive gaffe may have been his brusque treatment of Ovitz and CAA client Bill Murray. Recalling a spat with Ovitz, agent Bernie Brillstein explains, "I didn't pander ((to Ovitz)), which was probably the source of our fallout."

In his own defense, Ovitz insists that his private feelings do not interfere with business. Says he: "We may be in a personal dispute with someone, but if they have a project that's right for one of our clients, it will be analyzed on the merits. Anyone who says any different is kidding himself."

Some of his colleagues think Ovitz may be getting restless. Says a friend: "CAA is just a bridge he is building so that he can take over Columbia Pictures, MGM/UA or MCA. Michael would like to end up as the Lew Wasserman of his day." History records that Wasserman, who has headed MCA since its 1940s heyday, was known around Hollywood first as "the Octopus" and later as "the Statesman." Most film aficionados would say Ovitz has already earned the first title and is working on the second.




Michael Ovitz, Top 100 People of the Advertising Century, Ad Age


Creative Artists Agency, Hollywood, CA
List No. 87 of 100
Ad Age

One of the most powerful dealmakers in Hollywood with his innovative talent "packaging" company, Ovitz personally changed film industry dynamics in 1990 by brokering huge studio mergers for Japan's Matsushita and Sony. Then, in September 1991, he rocked the advertising world by signing Coca-Cola, ostensibly for marketing and media aid. That partnership set off bicoastal shockwaves and embarrassed longtime Coca-Cola agency McCann-Erickson, especially after the soft-drink giant began airing CAA's commercials featuring high-tech, animated polar bears and a catchy "Always" jingle. Such a la carte options still affect agency-client relationships.

© 2011. All rights reserved.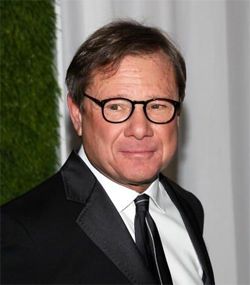 Links
Articles